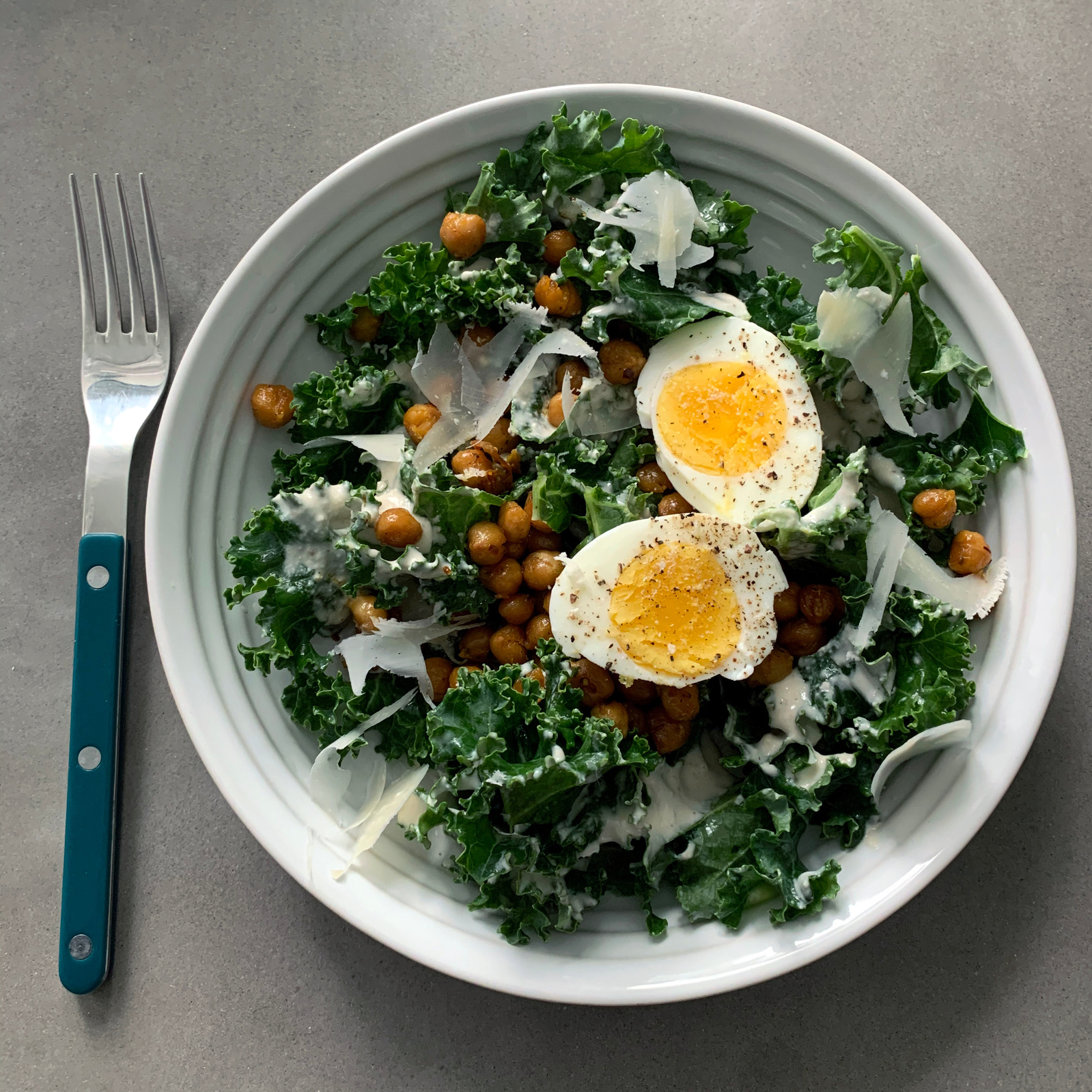 I'm sharing this really yummy kale crispy chickpea salad with homemade ceasar dressing that my friends and family love! This recipe is not AIP compliant, but it's gluten free and can be dairy free as well.
What you'll need:
For the dressing:

1 cup of raw cashews soaked overnight 2 lemons squeezed

1/4 cup of olive oil

1/4 cup of avocado oil
1 -2 tsp of minced garlic (depending on how garlicky you like it)

1 tin of anchovy fillets (drained)

2 tsp of capers
1 tsp of caper juice

1 tsp of dijon mustard
Salt & pepper
3 tsp of parmesan (optional if dairy free)

Warm water to thin it out as you blend
For the crispy chickpeas:

1 can of organic chickpeas drained
Olive oil to season

1/2 tsp of paprika
1/2 tsp of garlic salt

1/2 tsp of turmeric

Salt & Pepper
For the salad:

1 stock of organic curly kale
Olive oil to season

2-3 eggs boiled (I usually let the eggs sit off the stove for 4 minutes after it has boiled for a soft inside)
Fresh grated parmesan (optional)
- Pre heat the oven to 350 degrees. Spread the marinated chickpeas on a baking sheet then put it in the oven for 15-20 minutes until golden brown. They will become crispy as they cool.

- Put all of your dressing ingredients in a blender and blend it on slow until it's creamy. Add in warm water to thin it out if it's too thick. It may take some trial and error depending on a lot of different variants (ie cashew size etc).
- Make sure to taste as you go- add in more salt and pepper if needed!

-Wash and rip the kale. Once dried, massage with some olive oil.

-Add in your dressing, crispy chickpeas, eggs, and season with salt, pepper & parmesan cheese (optional).
-Store extra dressing in the fridge.

Enjoy :)